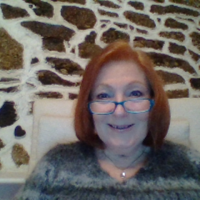 Hello there, I'm Jacqueline Spence.     I am a Professional English counsellor living in Brittany, France.     I offer face-to-face counselling for individuals and couples.    For those living at a distance from me, or unable to access a counsellor, I work online via Skype video webcam.   
Complementary to my counselling qualifications I hold a diploma in Clinical Hypnotherapy.     I use hypnosis as an aid to quitting smoking, controlled weight loss, overcoming phobias and to install a virtual Gastric Band.    I also teach relaxation and meditation techniques. 
Supporting and enabling a person to grow beyond personal difficulties is a subject close to my heart.  
I hold an Advanced Diploma in Integrative Counselling. The course I studied was integrative with person-centred core values. Whilst I have been trained in the use of Cognitive Behavioural and Brief Solution Focused models along with Gestalt, Psychodynamic and Transactional Analysis my style of counselling is Person-Centred, Client led. This way of working ensures that the client progresses at a pace he/she feels comfortable with.
I have worked as a professional counsellor within a GP Practice. My areas of expertise include: anxiety, stress, PTSD, depression, relationship counselling, bereavement and domestic abuse.
I am dedicated to the professional and ethical use of hypnosis. Having worked as a Hypnotherapist within a complementary medical centre set up by a group of GPs I now work, as a Counsellor and Hypnotherapist, solely in Private Practice. 
I abide by the ethical framework for good practice as set out by the British Association for Counselling and Psychotherapy (BACP).
My own values are in alignment with the fundamental values of counselling, which include:
Respecting human rights and 

dignity

Ensuring integrity in client-counsellor relationships

Alleviating personal distress and suffering

Increasing personal effectiveness

Enhancing the quality of relationships between people

Appreciating the variety of human experience and culture
Living in France, I am aware of the anxieties and loneliness which can often be experienced in moving to a foreign country. A move which necessitates learning to live in a different culture and speak a different language. If you are feeling that the quality of your life is not as fulfilling as you would wish it to be, please contact me to discuss how I may be able to help